Every year at THE BIG ONE someone always comes along and asks "hey you want to take my kart out" ? This year I was asked that very question by Terry Sullivan and I jumped at the chance because running one of Terry's Clinton powered rigs with the rest of the Clinton Clan is always a ball.
What Terry was letting me run was no ordinary Clinton powered kart however and as I was walking toward the grid Terry said to me " here,take the Big Clinton out". Having just scored a E65 courtesy of Terry and John McCorvey but unable to get it mounted up and running on my own kart in time for the event I thought with my limited knowledge of Clintons that a E 65 was considered a Big Clinton and I was very curious to see how they ran.
As I pulled out of the pits I took it easy to get a little heat in the engine and a feel for the kart itself so I rolled through the first lap at a very easy pace and then I started to get the kart up to speed and when I say "speed" I mean speed. For the life of me I couldn't believe how well this kart ran, it pulled real nice off of the turns and it was darn fast down the straights. As I was putting the kart through its paces I noticed that I was actually catching up to a couple of fellows who were having a little personal dice on Mc-91 shod karts and I was soon on their rear bumpers right in the mix with them. Down the chute I was all over them, coming out of the turns I stayed right with them, I even got around one of them in the tight 180 degree turn.
As I was pulling off the track I was pumped, I was thinking about the E65 I just got from Terry and John and how well my motor was going to run since its a 'Big Clinton' also right. WRONG. Once I climbed out of Terry's kart I looked down at the engine and it didn't look anything like my new E65 let alone any Clinton I had ever seen. As I was pondering just what I was looking at about this same time Terry walks up and says with a big smile on his face, "what do you think" ? My only reply was " I'm impressed but what the hell is it" ? Terry's response was "Its a Big Clinton".
Turns out this Big Clinton of Terry's is a Clinton 502 and they were offered in two sizes - 7.75 cu in and 8.59. Terry's is the 8.59 cubic inch or 140cc version. Terry went on to say that the engine had ball and needle bearings on the crankshaft and that he swapped out the original float type carb for a 1" tilly on gasoline. Terry wasn't sure of the engines exact build year but he did say they still being made up into 1978.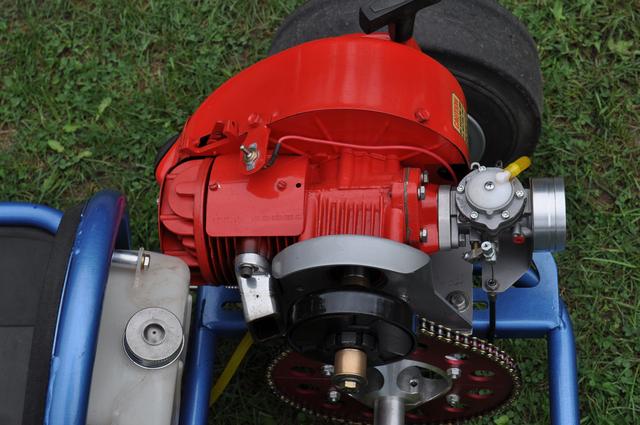 Have to give a big shout out to Terry for allowing me the pleasure to run this unique engine and a reminder that running a Clinton engine can sometimes turn out to be a BIG thing.
R.E.A.R.